STP (shielded twisted pair)
STP cable
STP cable has one extra metal shield covering the insulated twisted pair conductors. But this is absent in UTP cables. The most common UTP connector is RJ45.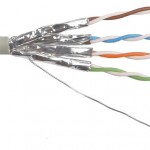 The unshielded twisted pair cable is classified into seven categories based on cable quality. Performance of twisted-pair cable is measured by comparing attenuation versus frequency. Attenuation increases with frequency above 100 kHz.
Data cabling systems are categorised in terms of the data rates that they can maintain without degradation. The specifications describe the cable material as well as the types of connectors and junction blocks to be used in order to conform to a category. For ISO/IEC standards, the category refers to the cable and class refers to the connector. ISO are international standards and can be followed anywhere in the world.
The two most widely-installed categories are CAT 3 (voice) and CAT 5e, traditionally, however with new installations, category 5e for voice and one high speed to support 10GBASE-T for long term usage are becoming most common.
Same as Cat5e, except that it is made to a higher standard (see comparison chart below) . The Cat6 standard is now officially part of the 568A standard. Cat6 Ethernet cables and patch cords are available as both off-the-shelf and as custom made products. *Note: Cat5e, Cat6 and Cat7 can be used for voice over IP applications*